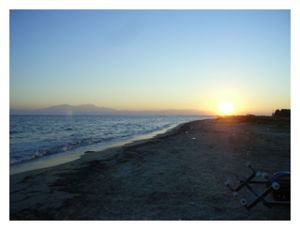 San Diego - When the ocean rose up and saved a Greek town from a marauding Persian army nearly 1,500 years ago, renowned Greek historian Herodotus chalked it up to an act of the gods.
Yet new evidence suggests his account of divine intervention is firmly rooted in the earthly realm, and was actually a tsunami, according to a researcher who spoke here today (April 19) at the annual meeting of the Seismological Society of America.
"This is historical stuff, but you have to interpret it in a scientific way," said Klaus Reicherter of Germany's Aachen University, who studied geological evidence of the event.