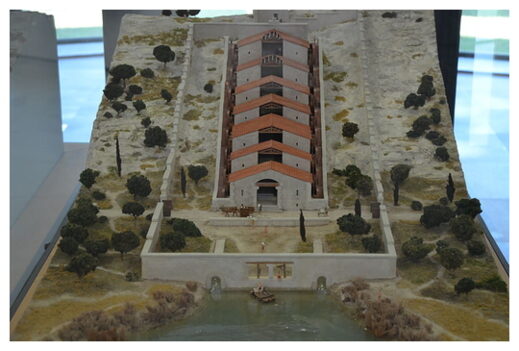 An international team of scientists has reconstructed the hydraulic operations of the 1,900-year-old Barbegal industrial watermill complex in southern France, revealing the subtle brilliance of antiquity's engineers.
The Barbegal watermill complex was a set of sixteen water wheels arranged in two parallel columns of eight along a thirty-meter slope near the French town of Arles. It's been
hailed
as having the "greatest known concentration of mechanical power in the ancient world." Each wheel was connected to a grinding mechanism, which milled grain into flour, perhaps as much as
25 tonnes per day
from the entire complex. When the complex was constructed at the end of the 1st century, the area was part of the Roman Empire. Archaeologists have speculated that Barbegal could have supplied bread to the 27,000 inhabitants of the local town of Arelate. It may also have been used to
produce mass quantities of hardtack
, a long-lasting, dry, salted biscuit, for sailors at the nearby harbors.
Professor Emeritus
Dr. Cees Passchier
of Johannes Gutenberg University and his colleagues sought to understand the workings of this impressive industrial watermill. Unfortunately, today it's in ruins and all the wooden machinery has long since decayed.