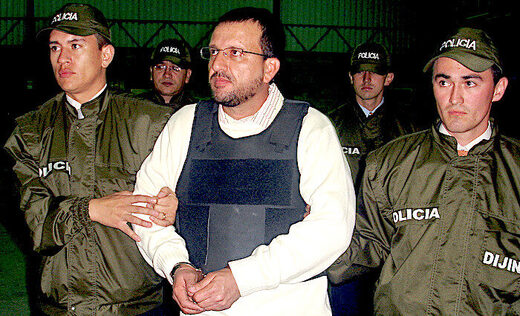 Newly released files
reveal the extent to which the US has long been aware of collusion between the Colombian government and paramilitary groups
intent on wreaking havoc - and yet seemingly turned a blind eye to it.
On September 28, a US federal court in Miami, Florida
found
former Colombian paramilitary chief Carlos Mario Jiménez
guilty of the 2001 murder of Bogotá community leader Eduardo Estrada.
The judgment marks the culmination of a legal battle lasting over a decade. Then-Colombian President Álvaro Uribe
extradited Jiménez - nicknamed 'Macaco'
by his subordinates -
to Washington in 2008, whereupon he was convicted of drug trafficking and served 11 years of a 33-year sentence.
US prosecutors opted to focus exclusively on narco-related charges,
meaning thousands of victims of
Macaco's paramilitary group,
Bloque Central Bolivar,
were prevented from seeking justice for assassinations, massacres, and other acts of extreme violence perpetrated by him and his criminal fraternity over the course of their never-ending, blood-spattered war against the Revolutionary Armed Forces of Colombia (FARC).
Released in 2019 and repatriated to Colombia, Jiménez was immediately arrested on homicide and conspiracy charges.
Now at last brought to justice, the presiding judge cited "an abundance of evidence" that Bloque Central Bolivar "operated in a symbiotic relationship with Colombian state actors,"
and moreover with protection from law enforcement, as the group committed countless hideous atrocities.