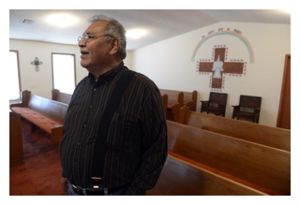 Anadarko, Oklahoma - They dance for the dead.
The foreman, the minister and the princess in the buckskin dress stomp and twirl and sing on a gymnasium floor protected by a tarp.
About 100 people watch from chairs arranged around a drum circle. All of them are family, in a way, bound to a terrible event 148 years ago on the banks of an ice-encrusted creek in Colorado.
The old lawyer is here, too, the former Oklahoma attorney general who smoked the truth pipe in a tepee as the Cheyenne arrow keeper looked on.
They gather every year - descendants of the Sand Creek Massacre and their unlikely allies - in a long search for justice that started with optimism, languished and now has a breath of new life.
At dawn on Nov. 29, 1864, Colorado soldiers attacked peaceful Indians camped on the banks of Sand Creek in what is now southeastern Colorado, slaughtering an estimated 163 - mainly women, children and the elderly - and desecrating their bodies.
The backlash was so severe, the U.S. government not only acknowledged wrongdoing but promised reparations of land and cash to survivors and relatives of victims.
That promise - spelled out in an 1865 treaty - remains unfulfilled, according to descendants and their attorneys.
Champions of the cause have died or moved on. And descendants who once stood as allies now view one another with scorn.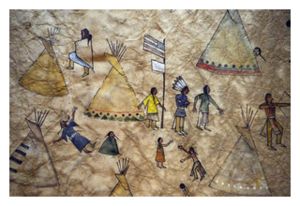 But on this early December day, in a town that calls itself the "Indian Capital of the Nation," descendants receive a rare progress report.
The newly expanded legal team for the Sand Creek Massacre Descendants Trust has opened a dialogue with Department of Interior officials about the claim. At the least, the discussions could lay the groundwork for a federal lawsuit, the lawyers say.
And after decades of research and recruitment, about 15,000 descendants have been identified - a step that trust leaders believe is necessary.
Homer Flute, a former auto-parts- factory foreman who has headed the trust since 1990, sits on the gym's wooden bleachers and considers the unlikely group of people in his company.
"Sand Creek is like a cobweb," Flute says. "It links in all different directions, and you don't know where it's going. You find people you didn't know existed, and they are kin to you somehow. The idea is you belong to these people and they belong to you."