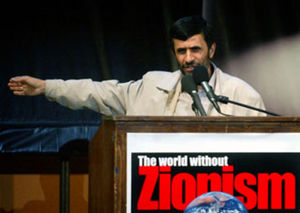 Having won the presidential election by a landslide, Ahmadinejad and his backers within the Iranian regime should be basking in the glory of an overwhelming mandate from the Iranian people. Instead they face unrelenting pressure from within and without as they confront their deadliest crisis yet. The US and British media is presently
falling over itself
to broadcast images of an Iranian protestor shot dead in broad daylight, while repeatedly decrying "election fraud" in Iran.
Here's the BBC's coverage of the event. Note the well-placed image and caption (as appears in original article) of "grave spaces." The implication is left unsaid, but the suggestion is tantalising bait for readers by now emotionally charged from accounts of the martyred symbol of Iranian Freedom™: the Iranian regime is quietly burying evidence of its crimes in 'mass graves'...
Death video woman 'targeted by militia'
She was near the area, a few streets away, from where the main protests were taking place, near the Amir-Abad area. She was with her music teacher, sitting in a car and stuck in traffic.



She was feeling very tired and very hot. She got out of the car for just for a few minutes.

And that's when it all happened.

That's when she was shot dead. Eyewitnesses and video footage of the shooting clearly show that probably Basij paramilitaries in civilian clothing deliberately targeted her. Eyewitnesses said they clearly targeted her and she was shot in the chest.