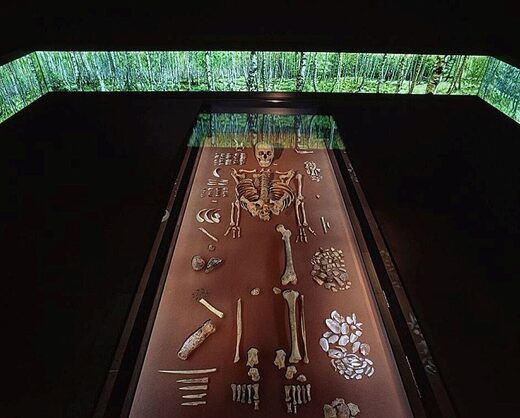 The double burial of an adult woman and an infant, dating to about 7000-6800 BCE, discovered in 1934
during construction works at the spa gardens of Bad Dürrenberg, is regarded as one of the outstanding burial finds of the Mesolithic in Central Europe. Because of the unusual equipment with the woman, who
was buried in a seated position
, and her bodily anomalies, the burial is interpreted as that of a shaman.
Genetic research now reveals the relation of the woman and the child:
the boy is not her son, but is a fourth- or fifth-degree relation.
The phenotypic variants analyzed in the woman's genome inform us that she had a relatively dark skin complexion, dark, straight hair, and blue eyes.