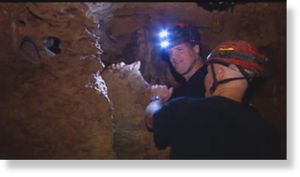 Somewhere in Comal County is a small parcel of private land full of breathtaking views. Hidden amidst the beauty is a mysterious entrance to the unknown.
Inside, there is not much space and it quickly goes from dry to wet. That's because it's a cave full of spring-fed water. And there are plenty of creatures living inside.
"There's a small colony of bats in there," said William "BT" Price, who owns the land.
Price bought the land where the hidden cave is located two years ago. Now, he's a retired banker who had become an explorer of his own backyard.
The cave is at least a mile in length but goes further. Price and friends are constantly pushing the limits by going into areas where the water and ceiling are separated by inches.
"It can be very dangerous -- very, very dangerous -- if it's not done right," said Price.