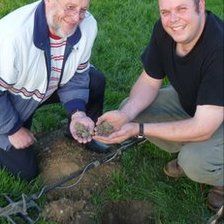 More than 3,000 Roman coins have been discovered in a field, it has emerged.
The hoard of copper alloy coins, dating from the 3rd Century, was unearthed in Montgomery, Powys, several weeks ago.
About 900 were found by a member of a Welshpool metal detecting club, with the rest of the discovery made with help from archaeologists.
The exact location is being kept secret to protect the site. The Powys coroner will determine whether they qualify as treasure.
Clwyd-Powys Archaeological Trust (CPAT), which helped unearth the coins, said the discovery had the potential to reveal more about Roman life in mid Wales in the late 3rd Century.
The Romans left Wales in 410AD, having first arrived in 47AD. The find in Montgomery is a few miles away from where a Roman fort once stood in the village of Forden.