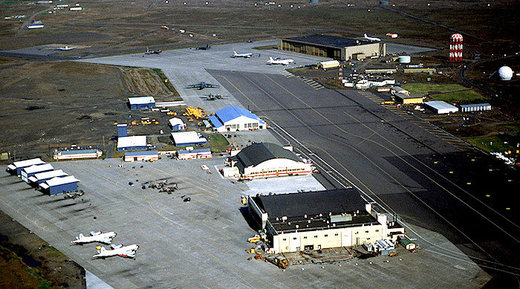 Newly declassified documents dating back to the Cold War era show US authorities contemplated storing nuclear weapons in Iceland in the 1950s-60s without alerting the country's authorities. Recently declassified State Department
documents
obtained by the National Security Archive show that
US government officials debated using Iceland, where they had a then-operational naval air station in Keflavik, as an "atomic base," including through "secret deployments."
A letter from the US ambassador to Iceland at that time, Tyler Thompson, dated August 1960, shows the Icelandic authorities inquired whether US "nuclear weapons were kept at Keflavik or carried through it in transit." Despite all references to Iceland being deleted from Thompson's letter, as this archival
release
shows, his signature and a daily staff
summary
from the US State Department, dated June 1960, which refers to the letter, indicate that Iceland was the site on the agenda.
In his letter,
Thompson opposes the plan
to use Iceland as a nuclear storage site, especially without alerting the authorities. He calls the plan a mistake, but the letter itself indicates that internal discussions were held on the matter.
Thompson warns of a "dramatic row" which could "be expected to have an
unfortunate effect on our friends and allies, to affect adversely our interests as far as neutrals are concerned, and to provide a propaganda field day for our enemies" if Reykjavik learned about a secret deployment of nuclear weapons.
The ambassador also appears concerned that Iceland could withdraw itself from NATO "in protest" against such deployment. In the end, these concerns won out and the plan was scrapped.