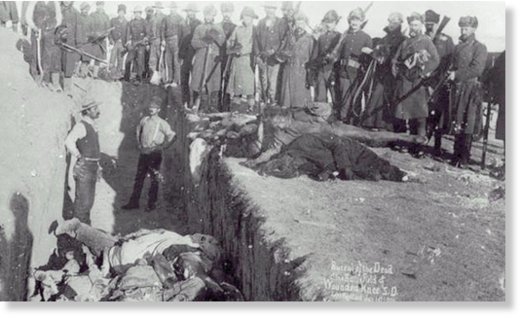 December 29th marks the 125th anniversary of when U.S. soldiers surrounded a band of Indians at Wounded Knee creek, seized their weapons and slaughtered at least 150—many of them women and children.
The
1890 Wounded Knee Massacre
isn't given much attention in history books, but it's an uglier part of our country's past that arguably contradicted the second amendment—giving citizens the rights to bear arms— violated human rights while designating 20 soldiers heroes by awarding them with the Army's Medal of Honor.
The massacre was the result of the U.S. government's desire to seize land and move indigenous people from their homelands.
This bubbled to the surface in 1890 as Indians at the
Lakota Pine Ridge Indian Reservation
in South Dakota took part in the Ghost Dance Spiritual Movement—a practice to reject the ways of the white man with the belief that God would create the world anew.
On Dec. 29 the U.S. Army's 7
th
Cavalry surrounded a band of ghost dancers near Wounded Knee Creek and Col. James W. Forsyth demanded they surrender their weapons and told them
they'd be relocated to another camp.