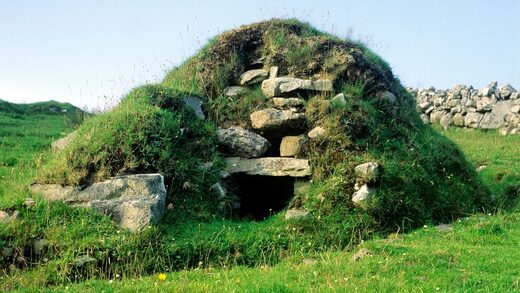 Until the 1900s, when people in Ireland got sick, they would get naked and disappear into steamy saunas.
Now, a new project is aiming to uncover these timeworn structures' secrets.N
Naked and sweaty, they laid inside
grass-covered stone igloo-like structures in the remote fields of Ireland
. Some were ill, others may have been having hallucinations, hatching plans to distil illegal alcohol or imagining they were the Vikings who once raided this country. By the time these addled folk emerged from the structures back into the fresh air of 19th-Century Ireland, they had been through a jarring mental and physical journey. One that still holds many mysteries.
"Some people reckoned the cure was worse than the disease," archaeologist Aidan Harte told me of this sweltering experience, as he stood atop
a 150-year-old Irish sweathouse in Killadiskert
, an isolated corner of County Leitrim. "Part of the reason there's crazy theories about hallucinations and making alcohol is because
we just don't fully know the truth about sweathouses and all their uses
. They're a bit of a riddle that we're now trying to work out."