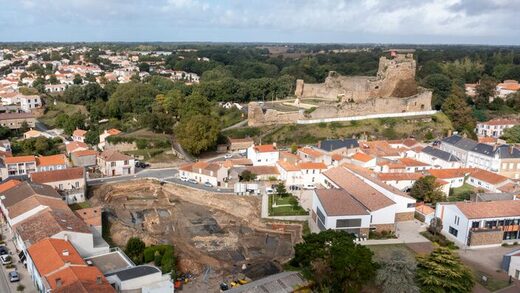 [Translated from the French original that can be found
here
]
A preventive excavation carried out in the center of a former seigneury of the Plantagenêt empire has unearthed a number of testimonies of daily life in this former harbor on the ocean.
From the archeology of the coast, five kilometers from the seafront. In the hinterland of Sables-d'Olonne, in Talmont-Saint-Hilaire, stand the remains of
a proud fortified castle built from the XI
e
century. Converted under the Reformation into a Protestant fortress then dismantled in 1628
, under the aegis of Richelieu, the beautiful fortress is admired each year by a few thousand visitors. Tourists tempted by the ascent of this Vendée citadel abandon their cars in a car park nestled at the foot of the castle elevation. But how many know that more than five centuries ago, the most cosmopolitan luggage already docked at the stronghold of Talmont? Transported, not by carriage or on horseback, but by boat. And to a port instead of the parking lot.