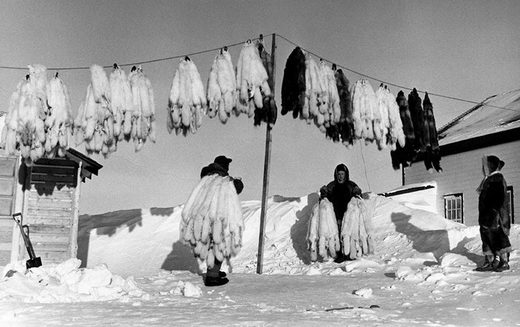 In the wake of a meteor shower during the brutal winter of 1941 on the Belcher Islands in Hudson Bay, a 27-year-old Inuk named Charlie Ouyerack announced that he was Jesus, and that the community's best hunter, Peter Sala, was God. They gained acolytes and ordered that sled dogs be killed—because soon everyone would be able to fly—and unbelievers, too. One night, Sala's sister forced some of the islanders to take their clothes off outside in order to greet the end of the world. Six died of exposure. By the time the messianic cult had run its course, nine Inuit had perished.
American writer Lawrence Millman's new book,
At the End of the World
, tells the story of the murders. While the details mark them as some of the grisliest in Canadian history, the survivors he spoke with (who have all since passed away) poignantly open a window onto some of the indirect, insidious effects of colonization. The book paints a picture of the long reach of forced assimilation—even in an area that hadn't yet been infested by residential schools—which could warp people's relations with themselves and with the world around them in unforeseen and catastrophic ways.