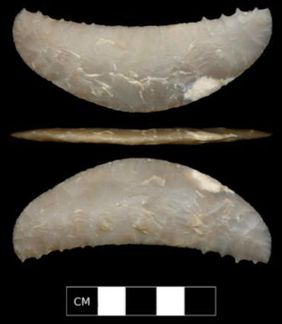 Evidence for a diversified sea-based economy among North American inhabitants dating from 12,200 to 11,400 years ago is emerging from three sites on California's Channel Islands.
Reporting in the March 4 issue of
Science
, a 15-member team led by University of Oregon and Smithsonian Institution scholars describes the discovery of scores of stemmed projectile points and crescents dating to that time period. The artifacts are associated with the remains of shellfish, seals, geese, cormorants and fish.
Funded primarily by grants from the National Science Foundation, the team also found thousands of artifacts made from chert, a flint-like rock used to make projectile points and other stone tools.
Some of the intact projectiles are so delicate that their only practical use would have been for hunting on the water, said Jon Erlandson, professor of anthropology and director of the Museum of Natural and Cultural History at the University of Oregon. He has been conducting research on the islands for more than 30 years.