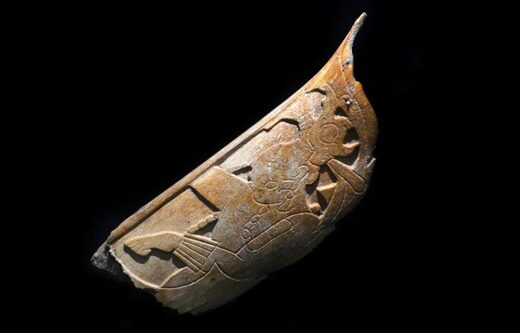 Archaeologists from the National Institute of Anthropology and History (INAH) have uncovered a nose ring made from human bone during excavations at the Maya city of Palenque.
Palenque, also known as Lakamha in the Itza Language (meaning "Flat-Place-River"), is located near the Usumacinta River in the Mexican state of Chiapas.
Excavations of
House C, part of a palace complex built by Pakal the Great
, has led to the discovery of a ritual deposit containing a nose ring made from human bone. The deposit is likely an offering to commemorate
the building's completion between AD 600 and 850
during the Late Classic period.
The nose ring is
made with part of a human distal tibia which forms the bony structure of the ankle joint, and has an engraved scene used to personify K'awiil, the Mayan god associated with lightning, serpents, fertility, and maize
. The Maya often depicted K'awiil holding the promise of "Innumerable Generations" who was part of the Maya rulers ritual inauguration and accession to the throne.