ASTANA — In a series of captivating archaeological excavations that have been taking place in the East Kazakhstan region, revealing an astonishing discovery. A necropolis containing the burial of a Bronze Age woman has emerged as the focal point, shedding light on a complex tapestry of history and culture.
The site's significance has deepened with the uncovering of 180 alcoves and an exquisite silver accessory depicting a frog,
reports Kazinform.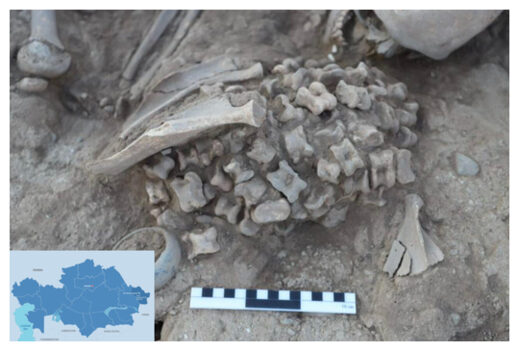 Led by Rinat Zhumatayev, Head of the Department of Archaeology, Ethnology, and Muzology of KazNU, in collaboration with specialists from the University of Cambridge, these excavations have steadily unveiled secrets of the past. The ongoing excavations have gained momentum since 2016 when the journey to explore the region's historical treasures commenced in the Zaisan district, spearheaded by Abdesh Toleubaev.
"The results of our work were showcased at the first international exhibition, specifically in Moscow, London, and Kazan. Thanks to the exhibition 'Altai - the Cradle of the Turkic World,' we have strengthened our relationship with Cambridge University. Since 2020, archaeological excavations have been conducted in collaboration with scientist Rebecca Roberts," said Rinat Zhumatayev.
The artifacts, belonging to the Bronze Age spanning from the 25th to 18th centuries BC, were initially discovered in the ancient burial grounds of Ainabulak in 2017. Exploration continued in subsequent years in Yelek, and in 2023, focus returned to Zaisan. The unearthed artifacts are set to be displayed in the historical and local history museum of the East Kazakhstan region. Local budget allocations have facilitated the preservation of these invaluable pieces.