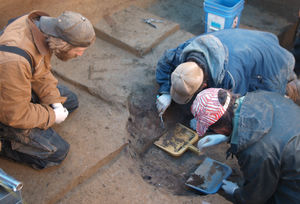 A newly excavated archaeological site in Alaska contained the cremated remains of one of the earliest inhabitants of North America. The site may provide rare insights into the burial practices of Ice Age people and shed new light on their daily lives.
University of Alaska Fairbanks archaeologist Ben Potter and four colleagues published their discovery in the Feb. 25 edition of the journal
Science
.
The skeletal remains appear to be that of an approximately three-year-old child, found in an ancient fire pit within an equally ancient dwelling at the Upward Sun River site, near the Tanana River in central Alaska. Radiocarbon dating of wood at the site indicates the cremation took place roughly 11,500 years ago, when the Bering Land Bridge may still have connected Alaska and Asia. Initial observations of the teeth by UAF bioarchaeologist Joel Irish provide confirmation that the child is biologically affiliated with Native Americans and Northeast Asians.