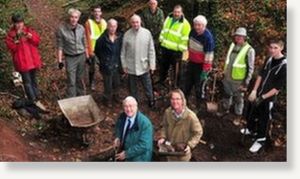 Historical secrets uncovered during one of Wales' largest community archaeology projects are to be revealed at a public meeting.
Local volunteers joined archaeologists to investigate several ancient sites in Cwmbran, Torfaen, with obscure origins.
The research focused on sites of archaeological interest in the Thornhill and Greenmeadow areas, one of which dates back more than 3,500 years.
Project leader Richard Davies said the work had "only scratched the surface".
Cwmbran is mainly known for the post-war new town, but the area has been inhabited since Neolithic times.
The Iron Age Silures tribe later held sway before being subdued by the Romans but this 18-month series of investigations has proved a history stretching back to the Bronze and Stone Ages.