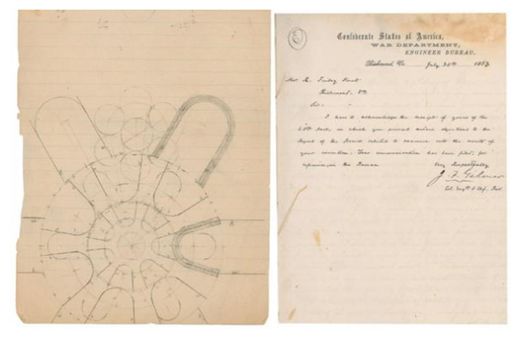 While Rebel and Union soldiers still fought it out with bayonets and cannons, a Confederate designer had the foresight to imagine flying machines attacking Northern armies. He couldn't implement his vision during the war, and the plans disappeared into history, until resurfacing at a rare book dealer's shop 150 years later. Now those rediscovered designs have found their way to the auction block, providing a glimpse at how Victorian-era technology could have beat the Wright Brothers to the punch.
The papers of R. Finley Hunt, a dentist with a passion for flight, describe scenarios where flying machines bombed Federal troops across Civil War battlefields. Hunt's papers are set to go up for sale at the
Space and Aviation
Artifacts auction during the week of Sept. 15-22, giving one lucky collector a chance to own a piece of an alternate technological history that never came to pass.
"It's incredible for someone who loves early aviation, because it poses the great question of 'What if?'" said Bobby Livingston, vice president of sales and marketing with RR Auction. "What if planes had appeared above the wilderness when [Union general Ulysses S.] Grant began his campaign in the Shenandoah Valley?"