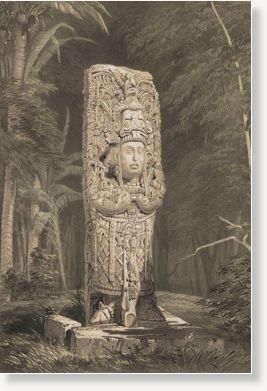 The ancient Maya culture flourished in Mesoamerica. At the height of their splendor there's an overwhelming rise in architectural construction, the type of buildings that pay homage to their rulers and their ancestors. Archaeologists call this phenomenon the Classic Maya Period, a time between 200 and 900 A.D. Within these centuries, archaeologists have found evidence that city-states expressed their power by creating unique architectural centers that in many ways were meant to replicate their cosmology. Perhaps the most important social act for a new king was to establish their relationship with the founder of the lineage and they did so by sponsoring magnificent works of art.
Our fascination with the Maya is credited to John Lloyd Stephens, a New York Lawyer who travelled to the Yucatan and Central America in the 1840s, and Frederick Catherwood, an Englishman whose mission was to visually document the journey, a talent that has inspired many of us in becoming archaeologists.
Along with multi-leveled stepped pyramids, ball courts, plazas and freestanding monuments called Stelae, the Maya also literally told the stories of their parents, ancestors, founders, foes, captured enemies and military alliances. Maya writing is a unique feature of this culture that along with the perfection of their calendar has intrigued and mystified the world. Their texts are expressions of a ruling class, however, the question remains, are we reading history, political propaganda or both?