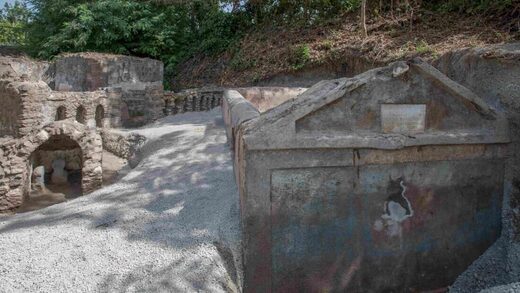 The Roman city of Pompeii was famously destroyed by the eruption of Mount Vesuvius in August 79 CE.
However, the
deadly blanket of ash
and pumice that fell on the city preserved its remains, including
its inhabitants
, allowing archaeological investigations centuries later to continue to
reveal details
about this incredible city. The latest discovery is a tomb
dating from the last decade of Pompeii
containing the unusual discovery of the partially mummified remains of a man.
This finding, by the Archaeological Park of Pompeii and the European University of Valencia,
is very unusual as it was customary at the time to bury children and cremate adults. The burial chamber includes a marble slab with the name Marcus Venerius Secundio
, believed to be the identity of the body found. Analysis of the bones suggests
he was over 60 years old
.
The mummified remains are in an incredible state of preservation,
with hair and an ear still visible
.