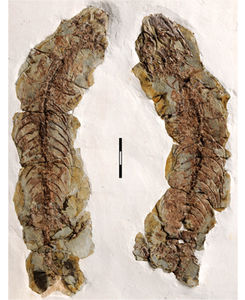 A new paper published in
Naturwissenschaft
reveals a fossil from 120 million years ago that proves that some lizards were not laying eggs but rather giving birth to live young.
The fossil was discovered by Susan Evans, a professor from the University College London Department of Cell and Developmental Biology, in the Jehol region of Northeast China. This area has revealed hundreds of dinosaur, amphibian, reptile, fish, bird, mammal, invertebrate and plant fossils.
The lizard in this case has been identified as
Yabeinosaurus
which scientists believe to be similar to the gecko. Evans did not pay much attention to the fossil when it was first discovered but Yuan Wang from the Chinese Academy of Sciences examined the fossil and discovered 15 tiny fossilized embryos.
The embryos were almost fully developed and the researchers believe that the foot-long mother died only a few days before she would have given birth.