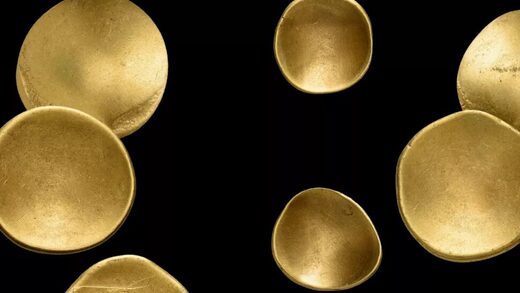 A volunteer archaeologist has discovered an ancient stash of Celtic coins, whose "value must have been immense," in Brandenburg, a state in northeastern Germany.
The 41
gold
coins were minted more than 2,000 years ago, and are the first known
Celtic
gold treasure in Brandenburg
, Manja Schüle, the Minister of Culture in Brandenburg announced in December 2021.
The coins are curved, a feature that inspired the German name "regenbogenschüsselchen," which translates to "rainbow cups."
Just like the legend that there's a pot of gold at the end of a rainbow, "in popular belief, rainbow cups were found where a rainbow touched the
Earth
," Marjanko Pilekić, a numismatist and research assistant at the Coin Cabinet of the Schloss Friedenstein Gotha Foundation in Germany, who studied the hoard, told Live Science in an email.