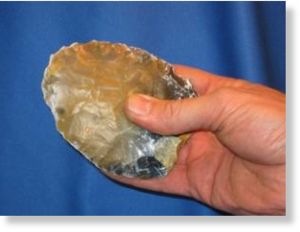 A rare and ancient tool found on a building site in Moreton is said to a "significant find" for the town according to experts.
Cotswold Archaeology made the exciting discovering earlier this month while carrying out an excavation on the Fire Service College housing development.
The flint hand axe, thought to have been used primarily for butchering large animals, is the second of its kind to be found in Moreton in eight years.
Neil Holbrooke, chief executive at Cotswold Archaeology, said the artefact could be up to 100,000 years old.