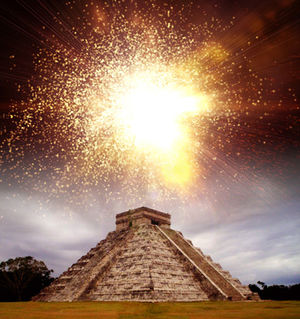 Mexico: If you are worried the world will end next year based on the Mayan calendar, relax: the end of time is still far off.
So say Mayan experts who want to dispel any belief that the ancient Mayans predicted a world apocalypse next year.
The Mayan calendar marks the end of a 5,126 year old cycle around December 21, 2012 which should bring the return of Bolon Yokte, a Mayan god associated with war and creation.
Author Jose Arguelles called the date "the ending of time as we know it" in a 1987 book that spawned an army of Mayan theorists, whose speculations on a cataclysmic end abound online. But specialists meeting at this ancient Mayan city in southern Mexico say it merely marks the termination of one period of creation and the beginning of another.
"We have to be clear about this. There is no prophecy for 2012," said Erik Velasquez, an etchings specialist at the National Autonomous University of Mexico (UNAM). "It's a marketing fallacy."