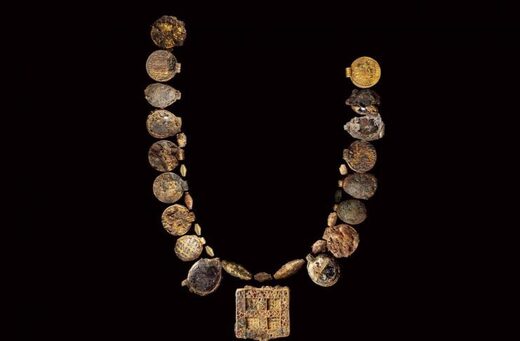 Archaeologists from MOLA (Museum of London Archaeology) have uncovered an ornate 1300-year-old gold and gemstone necklace during excavations in Northamptonshire, England.
The necklace was discovered in
the burial of a high-status female burial from the early Medieval period
, during preliminary works in preparation for a housing development by the Vistry Group.
The necklace, described as a "once in a lifetime" find,
has 30 pendants and beads made from Roman coins, gold, garnets, glass, and semi-precious gemstones. A rectangular pendant with a cross motif forms the centrepiece of the necklace and is inlaid with red garnets set in gold
.
The find is part of a collection of grave goods still being investigated that has been dubbed the 'Harpole Treasure', based on the name of the local parish. Experts have stated that
the female burial is one the most signifi
cant from the period ever discovered in Britain
.