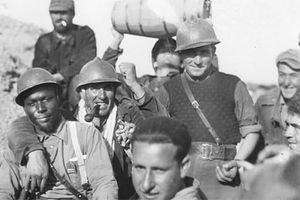 The Abraham Lincoln Brigade was an American contingent of about 2800 volunteers who fought on the side of the Second Spanish Republic during the country's 1936 - 1939 Civil War against the fascist Nationalist rebellion under General Francisco Franco. From 1937 through 1938, it aimed to stop international fascism under Hitler and Mussolini that led to WW II.
This essay explains who the "Lincolns" were, why they're important, and what their relevance is to America today under George Bush.
First a look at the Spanish Civil War and why these Americans fought in it.
The war began when Franco's troops invaded Spain in July, 1936 to unseat an unstable Republic that developed from the social dislocations after WW I. Post-war saw a wave of revolutionary unrest that led to the military dictatorship of General Primo de Rivera in 1923. Rapid decline followed under him after the boom years of the 1920s. It weakened Spain's monarchy, returned the country to republican rule, but things weakened when a liberal-Socialist coalition tried addressing agrarian problems that beleaguered all Spanish governments for generations. Reforms failed and so did the coalition. It came apart after an attempted military coup on the right and an anarchosyndicalist insurrection on the left that culminated in the Casas Viejas massacre of Andalulsian peasants in January, 1933.
By summer, Spain's many parties and organizations began regrouping and polarizing. In November, the Spanish Confederation of Right Groups (CEDA) coalition replaced the liberal-Socialists. Positions then hardened on the left and right leading to the 1934 "October Revolution" when Asturian miners in northern Spain became the epicenter of a general uprising throughout the country. It brought "Army of Africa" commander Francisco Franco from Spanish Morocco to the mainland for the first time in five centuries to defend "Christian Civilization" from "red barbarism." It was the start of class and regional conflict that became the Spanish Civil War two years later.