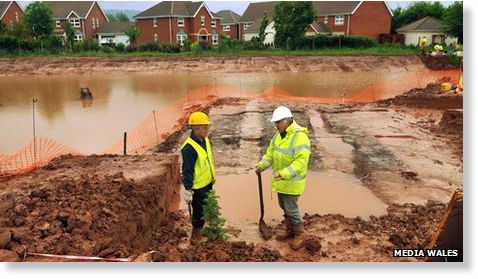 Archaeologists claim to have unearthed the remnants of a large prehistoric building, which they say could be older than Egypt's pyramids.
Experts said they were mystified by the "unique" find on the site of a housing development in Monmouth.
Monmouth Archaeology, which found the wooden foundations, said they dated to at least the Bronze Age, but could be early Neolithic, about 6,500 years old.
It said the pyramids were built about 4,500 years ago.
Steve Clarke of Monmouth Archaeology, who has 55 years' experience, claimed nothing like it had been discovered in Britain before and he was checking if something similar had been unearthed on mainland Europe.
He said the structure, possibly a long house, had been built on the edge of a long-lost lake, which has silted up over time.
The building's foundations were made from entire tree trunks, measuring about a metre wide.