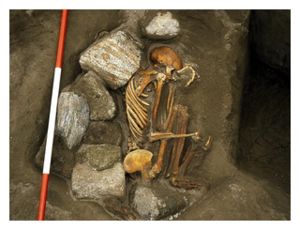 In a "eureka" moment worthy of Dr. Frankenstein, scientists have discovered that two 3,000-year-old Scottish
"bog bodies"
are actually made from the remains of six people.
According to new isotopic dating and DNA experiments, the mummies - a male and a female - were assembled from various body parts, although the purpose of the gruesome composites is likely lost to history.
The mummies were discovered more than a decade ago below the remnants of 11th-century houses at Cladh Hallan, a prehistoric village on the
island of South Uist (map)
, off the coast of Scotland.
The bodies had been buried in the fetal position 300 to 600 years after death. (See
bog body pictures
.)
Based on the condition and structures of the skeletons, scientists had previously determined that the bodies had been placed in a peat bog just long enough to preserve them and then removed. The skeletons were then reburied hundreds of years later.
Terry Brown
, a professor of biomedical archaeology at the University of Manchester, said there were clues that these bog bodies were more than they seemed.
On the female skeleton, "the jaw didn't fit into the rest of the skull," he said. "So Mike [Parker Pearson, of Sheffield University] came and said, Could we try to work it out through DNA testing?"
Brown sampled DNA from the female skeleton's jawbone, skull, arm, and leg. The results show that bones came from different people, none of whom even shared the same mother, he said.
The female is made from body parts that date to around the same time period. But isotopic dating showed that the male mummy is made from people who died a few hundred years apart.