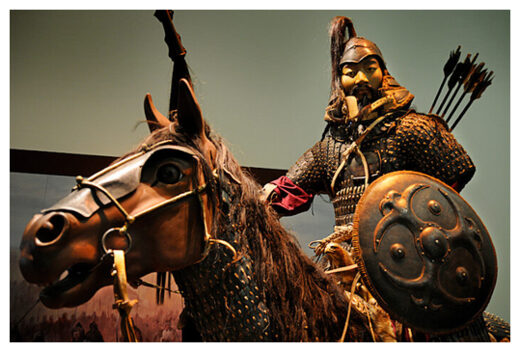 Genghis Khan may have died of bubonic plague, and not from blood loss after being castrated or other causes bandied about over the centuries, a new study finds.
Genghis Khan
, born Temüjin of the Borjigin clan in 1162, was one of the most famous conquerors in history. In 1206, he founded and served as the first ruler of the Mongol Empire, which, at the time of his death in 1227, was 2.5 times larger by territory than the Roman Empire, the new study's authors noted. His legacy has reached global dimensions: A study published in 2003 in
The American Journal of Human Genetics
suggested that about 1 in 200 men worldwide may be Genghis Khan's direct descendants.
While the conqueror's influence is well known, his death is shrouded in mystery. Genghis Khan's family and followers were instructed to keep his demise as their most hidden secret, since it happened during a vital stage of their war against the Western Xia, an empire the Mongols had fought for more than 20 years, the researchers said.
To honor or sully Genghis Khan's memory, both friends and foes of the Mongols told a number of legends about his death, the scientists said. One story claims he succumbed to blood loss after getting stabbed or castrated by a princess of the Tangut people, a Tibeto-Burman tribe in northwest China. Others suggested he died of injuries sustained after tumbling from his horse, fell in battle against the Chinese or died of an infected arrow wound during his final campaign against the Western Xia.