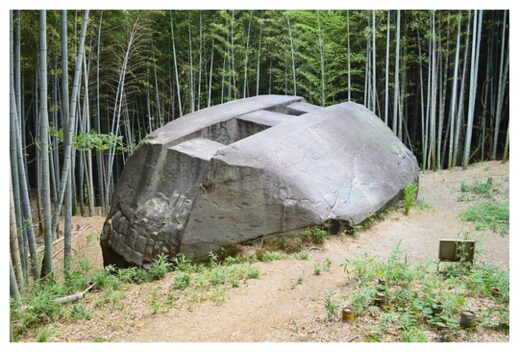 Located in the Takaichi District of Nara Prefecture, Japan, the village of Asuka is famous for its mysterious stones. The ancient origins of the village date back to the Tumulus period, also known as Kofun Jidai (c. 3rd century-538 C.E.).
Kofun
Jidai period (AD 250-552) is characterized by a specific type of earth mound in the shape of a key and surrounded by moats. However, the area is known for its many Buddhist temples, shrines, and statues.
Stone monuments that do not match Buddhist-style sculptures or construction on the hills surrounding Asuka attracts curious visitors and explorers.
Masuda-no-iwafune (literally "Rock Ship of Masuda",
益 田 岩 船
in Japanese), or Rock Ship of Masuda, is the name of the largest of these monuments. I
ts function is still unknown
and it is located atop a hill close to Okadera Station. The largest of the mysterious rock mounds, the rock ship is made of solid granite and measures 11 meters (36 feet) by 8 meters (26 feet), 4.5 meters high (15 feet), and weighs approximately 800 tons as it stands. It's a carved mound, with two holes each about a meter square in the center, going through to the ground.