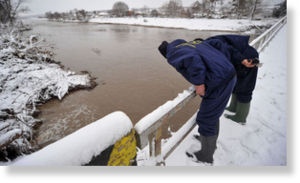 Several archaeological finds have been unearthed as work continues on clearing the debris following the flooding of the village of Bisser in southern Bulgaria, public broadcaster Bulgarian National Television (BNT) said.
At least eight people died and dozens had to be evacuated as the village was flooded because of a burst wall in the nearby Ivanovo dam. The flood destroyed several houses.
It was unclear whether the finds had been unearthed by the water flow or carried by the water, archaeologists from the Harmanli historical museum said.
The stone slab appeared to be part of a Roman-era public building, while the hexagonal column was specific for the early Ottoman era. A similar column had been found near the village in the 1960s, BNT said.