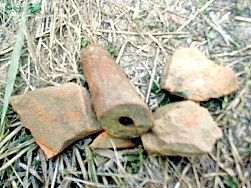 Archaeological objects dating back to Gautam Buddha's time have been found at Devdaha in Lumbini (eastern Nepal). The palace of Lord Buddha's maternal uncle is located in Devdaha.
Local people found the remains of a
hukka
(smoking pot made of clay), bricks,
diyo
(a small earthen lamp) and a pond under a peepal tree at Bhaluhi's Buddhapath and informed the local administration and the Lumbini Development Trust (LDT) of the finding.
According to elderly people in the area, Lord Buddha used to take bath in the area and it has a small temple too.
Following an inspection, archaeological officer of the LDT Himale Upreti said the relics may be traced back to Buddha's times. He said an excavation needs to be carried out in the area to verify the objects.
"Objects dating back to centuries were found here earlier too. However, people were not aware of them and the place remained unnoticed," Upreti said, adding that there might be various other archaeologically important sites in Devdaha.