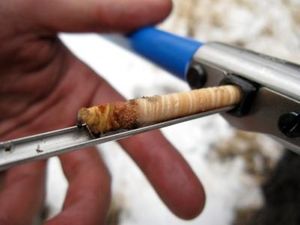 A new study at the University of Arizona's Laboratory of Tree-Ring Research has revealed a previously unknown multi-decade drought period in the second century A.D.
Almost nine hundred years ago, in the mid-12th century, the southwestern U.S. was in the middle of a multi-decade megadrought. It was the most recent extended period of severe drought known for this region. But it was not the first.
The second century A.D. saw an extended dry period of more than 100 years characterized by a multi-decade drought lasting nearly 50 years, says a new study from scientists at the University of Arizona.
UA geoscientists Cody Routson, Connie Woodhouse and Jonathan Overpeck conducted a study of the southern San Juan Mountains in south-central Colorado. The region serves as a primary drainage site for the Rio Grande and San Juan rivers.
"These mountains are very important for both the San Juan River and the Rio Grande River," said Routson, a doctoral candidate in the environmental studies laboratory of the UA's department of geosciences and the primary author of the study, which is upcoming in
Geophysical Research Letters
.