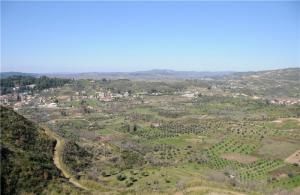 Olympia, site of the famous Temple of Zeus and original venue of the Olympic Games in ancient Greece, was presumably destroyed by repeated tsunamis that travelled considerable distances inland, and not by earthquake and river floods as has been assumed to date. Evidence in support of this new theory on the virtual disappearance of the ancient cult site on the Peloponnesian peninsula comes from Professor Dr Andreas Vött of the Institute of Geography of Johannes Gutenberg University Mainz, Germany.
Vött investigated the site as part of a project in which he and his team are studying the paleotsunamis that occurred along the coastlines of the eastern Mediterranean over the last 11,000 years. According to his account, the geomorphological and sedimentological findings in the area document that Olympia and its environs were destroyed by tsunami impact. The site of Olympia, rediscovered only some 250 years ago, was buried under a massive layer of sand and other deposits that is up to 8 meters deep.
"Both the composition and thickness of the sediments we find in Olympia do not go with the hydraulic potential of the Kladeos River and the geomorphological inventory of the valley. It is highly unlikely that this could have been the work of this creek," states Vött. To date, it has been assumed that the cult site was finally destroyed by an earthquake in 551 AD and later covered by flood deposits of the Kladeos River. In this scenario, however, it remains mysterious how the tiny Kladeos that passes by could first have buried Olympia under several meters of sediment, only to subsequently get incised by 10 to 12 meters down to the flow level used in ancient times. Working in collaboration with the local Ephorate for Classical Antiquities, the German Archaeological Institute, and colleagues from the universities of Aachen, Darmstadt, Freiburg, Hamburg, and Cologne, Vött and his team examined the location using geomorphological and geoarcheological methods and techniques.