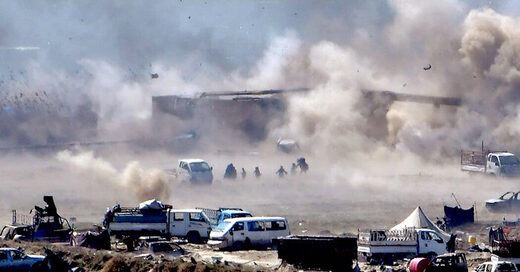 The reports about the US 2019 airstrike that killed up to 64 civilians in the ISIS-controlled town of Baghuz, Syria shocked millions of Americans. But this wanton murder is nothing new.
To understand how we got to Baghuz, all one has to do is study the Battle of Raqqa that preceded it.
The bombing conducted by the US Air Force in March 2019
in support of Syrian Kurdish forces mopping up the last vestiges of the Islamic State in Iraq and Syria (ISIS) holing up in and around the village of Baghuz, along the Syrian-Iraqi border,
has come under renewed scrutiny after allegations that the Department of Defense covered up claims that a war crime may have occurred.
These allegations, first
detailed
in a
New York Times
article, claim that some 80 people, including 64 civilian women and children, may have been killed by a deliberate air strike conducted by US Air Force F-15E fighters
dropping a mix of 500- and 2,000-pound bombs.
While the incident in question
may not
, on final scrutiny, fall within the legal definition of a war crime, it does appear to be
part of a larger pattern of callous indifference by the US-led anti-ISIS coalition toward civilian casualties
sustained in the fight against ISIS which dates to the battle for Raqqa, the one-time capital city of the short-lived ISIS Caliphate.