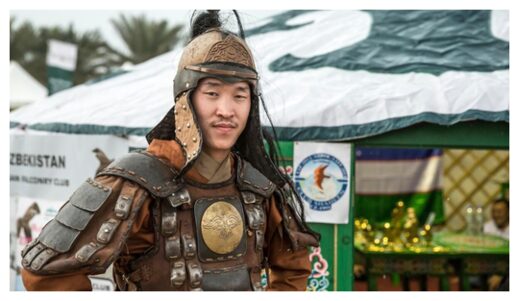 Researchers at the University of Zurich have investigated a unique leather scale armor found in the tomb of a horse rider in Northwest China. Design and construction details of the armor indicate that it originated in the Neo-Assyrian Empire between the 6th and 8th century BCE before being brought to China.
In 2013, a nearly complete leather scale armor was found in the tomb of an approx. 30-year-old male near the modern-day city of Turfan in Northwest China. This unprecedented find, which survived the millennia thanks to the area's extremely arid climate, provided the international team led by Patrick Wertmann from the Institute of Asian and Oriental Studies of the University of Zurich with new insights on the spread of military technology during the first millennium BCE.
Scale armors protect the vital organs of fighters like an extra layer of skin without restricting their mobility. The armors were made of small shield-shaped plates arranged in horizontal rows and sewn onto a backing. Due to the costly materials and laborious manufacturing process, armors were very precious, and wearing them was considered a privilege of the elite. It was rare for them to be buried with the owner. However, the emergence of powerful states with large armies in the ancient world led to the development of less precious but nevertheless effective armors made of leather, bronze or iron for ordinary soldiers.