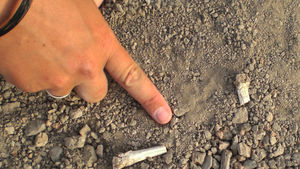 Lucy, it turns out, had company - another prehuman that also walked but spent more of its time in trees.
Until now, there was no proof of another human relative living around the same time as the species made famous by the Lucy skeleton. But a fossil discovery reveals there was another creature around 3 million years ago and it gives new insight into the evolution of a key human trait - walking on two legs.
The creature came to light when an international team of researchers unearthed a partial foot in eastern Africa. Like Lucy, it walked upright, but had a grasping foot that it used to climb tree branches. Scientists said it's now clear that various human relatives experimented with upright walking.
"This is just another window into solving the problem of how we got from a primitive foot to the modern human foot," said Bruce Latimer of Cleveland's Case Western Reserve University, who helped discover the fossil remains.
Various hominin species have co-existed throughout human evolutionary history, but this is the first sign of another during Lucy's time.
So what was this tree-climbing and ground-dwelling creature?