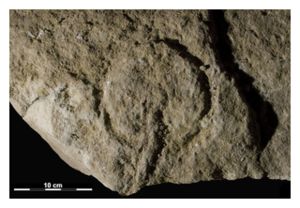 The oldest rock art ever found in Europe reveals an interest in the female form - and the type of décor that the first Europeans preferred for their living spaces.
The new discovery, uncovered at a site called Abri Castanet in France, consists mainly of circular carvings most likely meant to represent
the vulva
. The carvings were etched into the ceiling of a now-collapsed rock shelter about 37,000 years ago, researchers reported Monday (May 14) in the journal
Proceedings of the National Academy of Sciences.
"It's quotidian art, it's
everyday art
," study researcher Randall White, an anthropologist at New York University, told LiveScience. "It's over their heads as they're doing everyday, banal sorts of things."
Earliest artists
The artists who created this ceiling décor were the first humans in Europe, a group called the Aurignicians. Arriving from Africa, they would
replace the Neanderthals
in Eurasia.
They were hunter-gatherers, White said, and their society was quite complex. They painted, sculpted and made carvings. Their jewelry included woolly mammoth ivory beads, pierced animal teeth and shells from both the Mediterranean and the Atlantic.
The Aurignicians would have spent winters at the site in southwestern France, perhaps in groups of up to 300 people, White said. These hunter-gatherers found shelter beneath a rock overhang about 23 feet (7 meters) deep and about 6 feet (2 m) tall. On the ceiling, they pecked away rock, carving multiple depictions of notched circles likely meant to represent the female genitalia. (Anthropologists still debate if the images are meant to be vulvas or something else.) Other European rock art sites have similar carvings, White said, though there are regional differences in how the symbols are drawn.