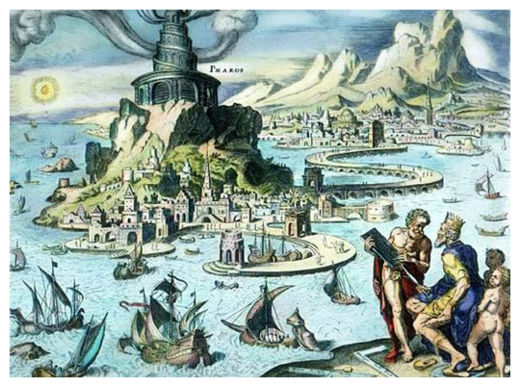 The Egyptian city of Alexandria, home to one of the seven wonders of the ancient world, may have been built to align with the rising sun on the day of Alexander the Great's birth, a new study finds.
The Macedonian king, who commanded an empire that stretched from Greece to Egypt to the Indus River in what is now India, founded the city of Alexandria in 331 B.C. The town would later become hugely prosperous, home to Cleopatra, the magnificent Royal Library of Alexandria and the 450-foot-tall (140 meters) Lighthouse of Alexandria, one of the
wonders of the ancient world
. Today, more than 4 million people live in modern Alexandria.
Ancient Alexandria was planned around a main east-west thoroughfare called Canopic Road, said Giulio Magli, an archaeoastronomer at the Politecnico of Milan. A study of the ancient route reveals it is not laid out according to topography; for example, it doesn't run quite parallel to the coastline. But on the birthday of Alexander the Great, the rising sun of the fourth century rose "in almost perfect alignment with the road," Magli said.
The results, he added, could help researchers in the hunt for the elusive
tomb of Alexander
. Ancient texts hold that the king's body was placed in a gold casket in a gold sarcophagus, later replaced with glass. The tomb, located somewhere in Alexandria, has been lost for nearly 2,000 years.