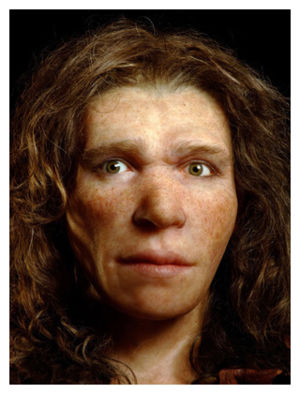 In museums around the world, reproductions of Neandertals sport striking blue or green eyes, pale skin, and gingery hair. Now new DNA analysis suggests that two of the most closely studied Neandertals - a pair of females from Croatia - were actually brown-eyed girls, with brunette tresses and tawny skin to match. The results could help shed new light on the evolution of the family that includes both modern humans and Neandertals, who died out some 30,000 years ago.
The study has provoked deep skepticism among several outside researchers, however, who criticize numerous aspects of its methodology. The results also run contrary to other genetic evidence and to a long-held hypothesis that Neandertals, who lived mostly in northern latitudes, must've had light skin to get enough vitamin D.
But even scientists who have doubts about the new research say it still provides food for thought. "Neandertals occupied a wide geographical range," says John Hawks of the University of Wisconsin, Madison, who was not involved in the study and who is also studying the physical traits of ancient humans, so "it's likely that they were variable in pigmentation. ... We are really at the first step."
The new study, to be published in the
American Journal of Human Biology
later this spring, looks at the genomes of three female Neandertals from Croatia. Their DNA was the basis of the first effort to compile a
complete Neandertal genetic sequence,
which was published in 2010.