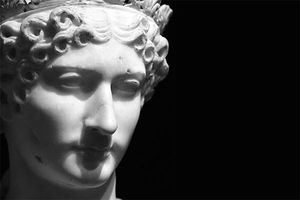 Over the last 30 years, wealth in the United States has been steadily concentrating in the upper economic echelons. Whereas the top 1 percent used to control a little over 30 percent of the wealth, they now control 40 percent. It's a trend that was for decades brushed under the rug but is now on the tops of minds and at the tips of tongues.
Since too much inequality can foment revolt and instability, the CIA regularly updates statistics on income distribution for countries around the world, including the U.S. Between 1997 and 2007, inequality in the U.S. grew by almost 10 percent, making it more unequal than Russia, infamous for its powerful oligarchs. The U.S. is not faring well historically, either. Even the Roman Empire, a society built on conquest and slave labor, had a more equitable income distribution.
To determine the size of the Roman economy and the distribution of income, historians Walter Schiedel and Steven Friesen pored over papyri ledgers, previous scholarly estimates, imperial edicts, and Biblical passages. Their target was the state of the economy when the empire was at its population zenith, around 150 C.E. Schiedel and Friesen estimate that the top 1 percent of Roman society controlled 16 percent of the wealth, less than half of what America's top 1 percent control.