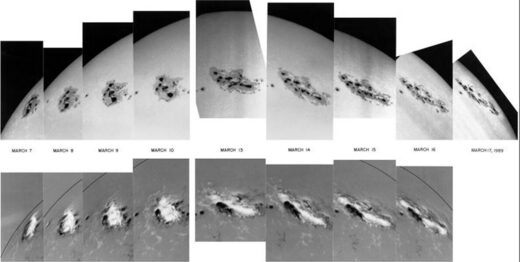 They call it "the day the sun brought darkness." On March 13, 1989, a powerful coronal mass ejection (CME) hit Earth's magnetic field. Ninety seconds later, the Hydro-Québec power grid failed. During the 9 hour blackout that followed, millions of Quebecois found themselves with no light or heat, wondering
what was going on
?
"It was the biggest geomagnetic storm of the Space Age,"
says Dr. David Boteler, head of the Space Weather Group at Natural Resources Canada. "March 1989 has become the archetypal disturbance for understanding how solar activity can cause blackouts."
It seems hard to believe now, but in 1989 few people realized solar storms could bring down power grids. The warning bells had been ringing for more than a century, though. In Sept. 1859, a similar CME hit Earth's magnetic field--the infamous "
Carrington Event
"--sparking a storm twice as strong as March 1989. Electrical currents surged through Victorian-era telegraph wires, in some cases causing sparks and setting telegraph offices on fire. These were the same kind of currents that would bring down Hydro-Québec.