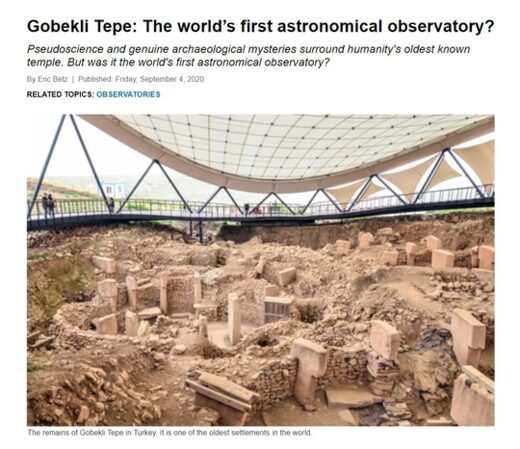 Last September Eric Betz published an article on the
Astronomy
and Discover websites. These are popular websites, with a lot of readers. Now, I have no idea who Eric is.
I think he's a journalist, not a scientist or archaeologist. But anyway, he wrote this bad article. I contacted the Astronomy website editors to point out its errors but got no response whatsoever. Hence this response.
Let's take a look at what Eric Betz said in his article.
Gobekli Tepe: the world's first observatory? He asks? And then he says 'Pseudoscience and genuine archaeological mystery surround humanity's oldest known temple. But was it the World's first astronomical observatory?'.
Ha, well, immediately my hackles are raised with his use of the word 'pseudoscience', and I wonder where he's going with this piece. It just sounds like sloppy journalism. Now, the problem with this word is that its often thrown around willy-nilly by people who are not scientists and who really have no idea how science really works. And they use it to claim that people with a view contrary to theirs are just talking nonsense. And I think this is how Eric is using it - simply as an attempt to undermine the position of people he disagrees with.
Now, sometimes, actual scientists will use the word in connection with studies like homeopathy or telekinesis or perpetual motion and so on. And here it has a real meaning - because these kinds of study contradict basic laws of physics. But I don't think Eric is using it in this sense. He's just using it to be offensive and to try to undermine his opponents, I think.
But who are Eric's opponents? Who is using pseudoscience, as he sees it? Whose arguments does he disagree with so strongly, and think are unsupported by any logic or evidence? Let's see.