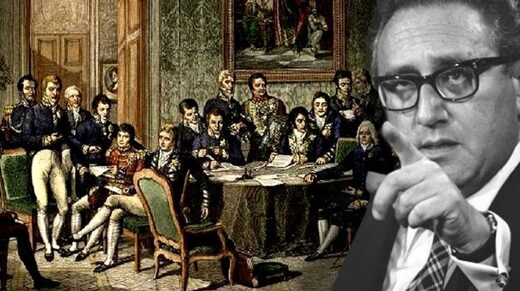 The incredibly shrinking Henry Kissinger is known for many things, but a revolutionary is not one of them. Over the years of service to the empire, the career geopolitician has been consistent in his unfailing commitment to 1) destroy the Westphalian system of sovereign nation states, 2) promote population control across the developing sector, 3) advocate limited nuclear war (in opposition to the more popular visions of total nuclear war advocated by Cold Warriors) and 4) selectively overthrow troublesome governments as a co-architect of color revolutions.
The unifying theme throughout has been Kissinger's total commitment to stability. No matter what chaotic means chosen to advance his agenda, you can be sure that
Kissinger does it all for a near religious commitment to "order" and stability.
Although too often overlooked, Henry Kissinger's 1
st
published work in 1957
A World Restored: Metternich, Castlereagh and the Problems of Peace 1812-1822
, offers us the greatest insight into the broader historical forces which young Kissinger understood and which won him entry into the most trusted inner echelons of the oligarchy. It also offers us a sort of master key into unravelling some major historical paradoxes that will assist us in making great sense out of our present age plagued by color revolution and war.