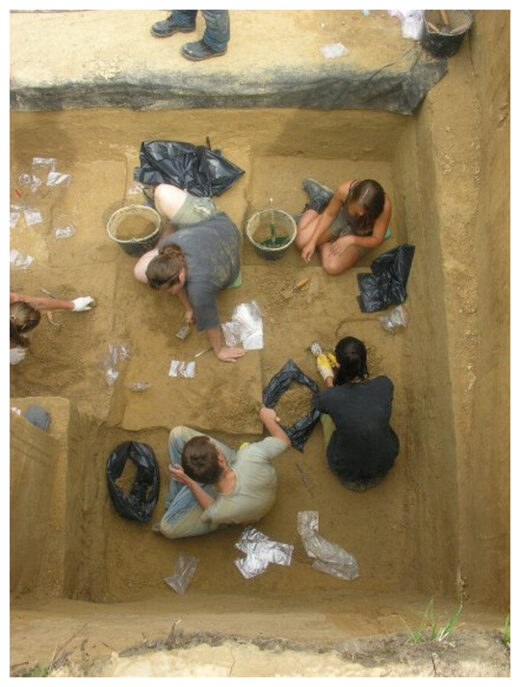 Ancient hunters stayed in the coldest part of Northern Europe rather than migrating to escape freezing winter conditions, archaeologists have found.
Evidence from Arctic fox bones show communities living around 27,500 years ago were killing small prey in the inhospitable North European Plains during the winter months of the last Ice Age.
Researchers have found no evidence of dwellings, suggesting people only stayed for a short time or lived in tents in the area excavated, Kraków Spadzista in Southern Poland - one of the largest Upper Palaeolithic sites in Central Europe. Until now it wasn't clear if people retreated elsewhere each winter to avoid the intense cold.
Dr Alexander Pryor, from the University of Exeter, who led the study, said: "Our research shows the cold harsh winter climates of the last ice age were no barrier to human activity in the area. Hunters made very specific choices about where and when to kill their prey."
Inhabitants of Kraków Spadzista around 27,500 years ago killed and butchered large numbers of woolly mammoths and arctic foxes at the site. For the first time, the research team were able to reconstruct details of how the foxes were moving around in the landscape before they died, and also what time of the year they died, through analysing the internal chemistry and growth structures of their tooth enamel and roots.
The analysis of teeth from four of the 29 hunted foxes show each was born and grew up in a different location, and had migrated either tens or hundreds of kilometres to the region before being killed by hunters - by snares, deadfalls or other trapping methods - for both their thick warm furs as well as meat and fat for food. The carcasses were brought back to the site to be skinned and butchered.