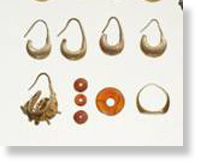 Conflagration at biblical Armageddon preserved gold and silver trove
Archaeologists digging at Tel Megiddo in northern Israel have unearthed what turns out to be one of the largest troves of Canaanite treasures ever found, buried in rubble from destruction 3,100 years ago. The treasure was hidden inside a clay vessel that had been unearthed in the summer of 2010. The pot had been filled with dirt and sent for testing. It was only recently that the dirt was examined in a restoration laboratory and the treasure revealed to their great surprise.
The hoard includes a collection of gold and silver jewelry, beads, a ring and a pair of unique gold earrings with molded ibexes and wild goats that was likely made in Egypt. "We find about 10 [whole] vessels every year. The only thing that was unusual was that the jug was found inside a bowl. It was put inside a bowl 3,000 years ago and was covered by another bowl and it was put in the corner of a court yard," archaeologist Eran Arie told The Media Line.
The hoard is one of the largest and most intriguing ever found in Israel. The treasure likely belonged to a wealthy, perhaps royal, family and was found in the layer of settlement dating to 1,100 B.C., about 150 years prior to the Israelite conquest of Canaan, Arie says.