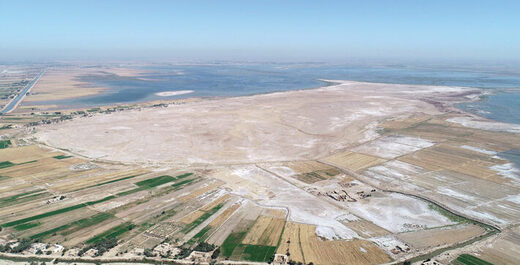 The traditional model of early Mesopotamian urban development holds that cities were compact settlements that expanded out from a central monumental religious complex. However, a recent remote-sensing survey of the ancient Sumerian city of Lagash in present-day southern Iraq has established that it was composed of several discrete sections, each bounded by walls or waterways. The survey was conducted by University of Pennsylvania archaeologist Emily Hammer in conjunction with Lagash Archaeological Project directors Holly Pittman and Augusta McMahon. It included drone photography of the entire 750-acre site.
The results revealed that some of the people of Lagash,
which dates largely to the Early Dynastic period (2900-2350 B.C.), lived on a pair of elongated mounds, each surrounded by substantial walls.
One of these mounds, in the east, measured 100 acres, and the other, in the west, covered 220 acres. People also lived on an unwalled mound in the north that spanned 140 acres and was crisscrossed by waterways. A much smaller fourth mound in the northeast was dominated by a large temple.