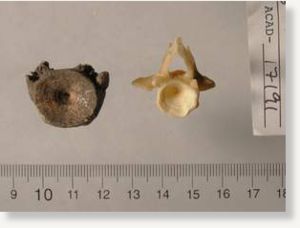 An archaeological research project focusing on the food remnants left by pre-Columbian inhabitants of coastal Maine is shedding new light on the diet and habits of some of Maine's earliest citizens. The big find: indigenous people in Maine held to the coast during the winter until the arrival of Europeans changed their long established migratory patterns.
A team of researchers led by Dr. Arthur Spiess - who is both the lead archaeologist for the Maine Historic Preservation Commission and a board member with Abbe Museum in Bar Harbor - have since the summer of 2010 been examining items recovered from a coastal shell midden within Acadia National Park. The project was funded by the L.L. Bean Acadia Research Fellowship and was facilitated by Acadia National Park staff.
A shell midden is essentially an ancient dump site where the leftovers of the meals of native Maine inhabitants were discarded. According to Spiess, the discovery of clam and mussel shells mixed with bones of other food animals at such sites is a great boon to archaeologists. Typically, the acidic soil common to Maine will cause most discarded bones to completely decompose within 100 years. The presence of shells at midden sites has the effect of neutralizing the soil, allowing fish, bird and mammal bones to remain intact for millennia. There reportedly exist thousands of shell middens worth excavating along the coast of Maine, three quarters of which are located around Frenchman Bay.
The items Spiess and his team have been studying recently are estimated to be around 2,500 years old - a period of time known as the ceramic period - and were excavated from a site within Acadia National Park in the late 1970s by University of Maine archaeologist Dr. David Sanger. For Spiess, the research of items from the Acadia shell midden site is one small part of a larger study.