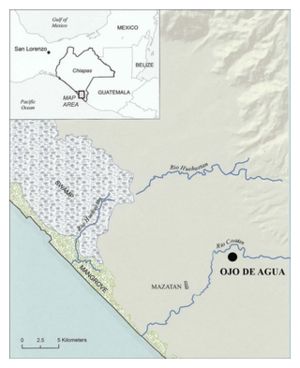 The main character in the sculpted relief of a newly discovered stone monument has one arm raised and a determined scowl, but John Hodgson, a University of Wisconsin-Madison archaeologist feels that we may never know who he was or indeed, the true meaning of the sculpture in its entirety.
The stone monument was discovered in 2009 at a site called Ojo de Agua in the southern state of Chiapas, Mexico, and is described in the cover article of the current issue (December 2010) of
Mexicon.
Monument 3 is the second sculpted relief to be found in Ojo de Agua. Monument 1 was discovered by accident when a local farmer hit it with a plough in the 1960s and Monument 3 was a similarly fortuitous find, uncovered in the process of digging an irrigation ditch. (Monument 2 is a large boulder with a flat surface but with no visible carving, found by Hodgson in 2005).
Hodgson was fortunate to be working in the area and was told of the find just a few days after its discovery. Rushing to the site he was still able to see the impression of the carving in the sides of the trench and he could record the layers where it had been buried, gaining a wealth of information that is usually lost in chance discoveries such as this.
"Usually sculptures are first seen by archaeologists in private art collections and we normally have no good idea where they came from. The depictions of figures and the motifs change in form through time so you can get an approximate date by comparing styles," he said. "But we were able to date the new monument by where it was found to a narrow 100-year window, which is very rare."