Machine-learning technique reveals Greek words in CT scans of rolled-up papyrus.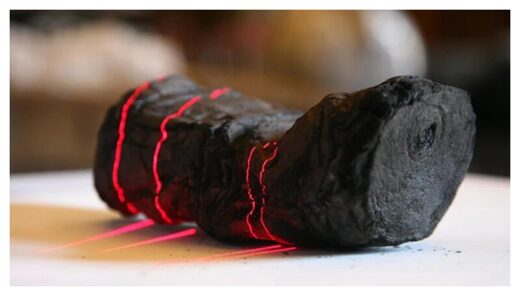 A 21-year-old computer-science student has won a global contest to read the first text inside a carbonized scroll from the ancient Roman city of Herculaneum, which had been unreadable since a volcanic eruption in AD 79 — the same one that buried nearby Pompeii. The breakthrough could open up hundreds of texts from the only intact library to survive from Greco-Roman antiquity.
Luke Farritor, who is at the University of Nebraska-Lincoln, developed a machine-learning algorithm that has detected Greek letters on several lines of the rolled-up papyrus, including πορϕυρας (porphyras), meaning 'purple'. Farritor used subtle, small-scale differences in surface texture to train his neural network and highlight the ink.
"When I saw the first image, I was shocked," says Federica Nicolardi, a papyrologist at the University of Naples in Italy and a member of the academic committee that reviewed Farritor's findings. "It was such a dream," she says. Now, "I can actually see something from the inside of a scroll."
Hundreds of scrolls were buried by Mount Vesuvius in October AD 79, when the eruption left Herculaneum under 20 metres of volcanic ash. Early attempts to open the papyri created a mess of fragments, and scholars feared the remainder could never be unrolled or read. "These are such crazy objects. They're all crumpled and crushed," says Nicolardi.
The Vesuvius Challenge offers a series of awards, leading to a main prize of US$700,000 for reading four or more passages from a rolled-up scroll. On 12 October, the organizers announced that Farritor has won the 'first letters' prize of $40,000 for reading more than 10 characters in a 4-square-centimetre area of papyrus. Youssef Nader, a graduate student at the Free University of Berlin, is awarded $10,000 for coming second.